Why do my sheet masks never seem to actually help my skin?
Before we created Glowdust, we asked ourselves the same question over and over. All of the sheet masks we tried felt like a nice self-care gesture towards our skin, but the "benefits" that were promised to us seemed to never really last after 15 minutes.
We researched, tested, and reviewed every mask we could find and found that most sheet masks aren't using ingredients proven to clean, hydrate, and repair skin. Some of them even used inherently bad ingredients with sulfates and parabens.
We set out to create a sheet mask that noticeably & scientifically improved our skin for longer than 15 minutes. Not only did we include a spectrum of natural extracts proven to clean, hydrate, and repair your skin, but we also packed 28mg of the cleanest CBD on the market that's known for its anti-inflammatory properties.
Your 15% off coupon is saved for 15 minutes!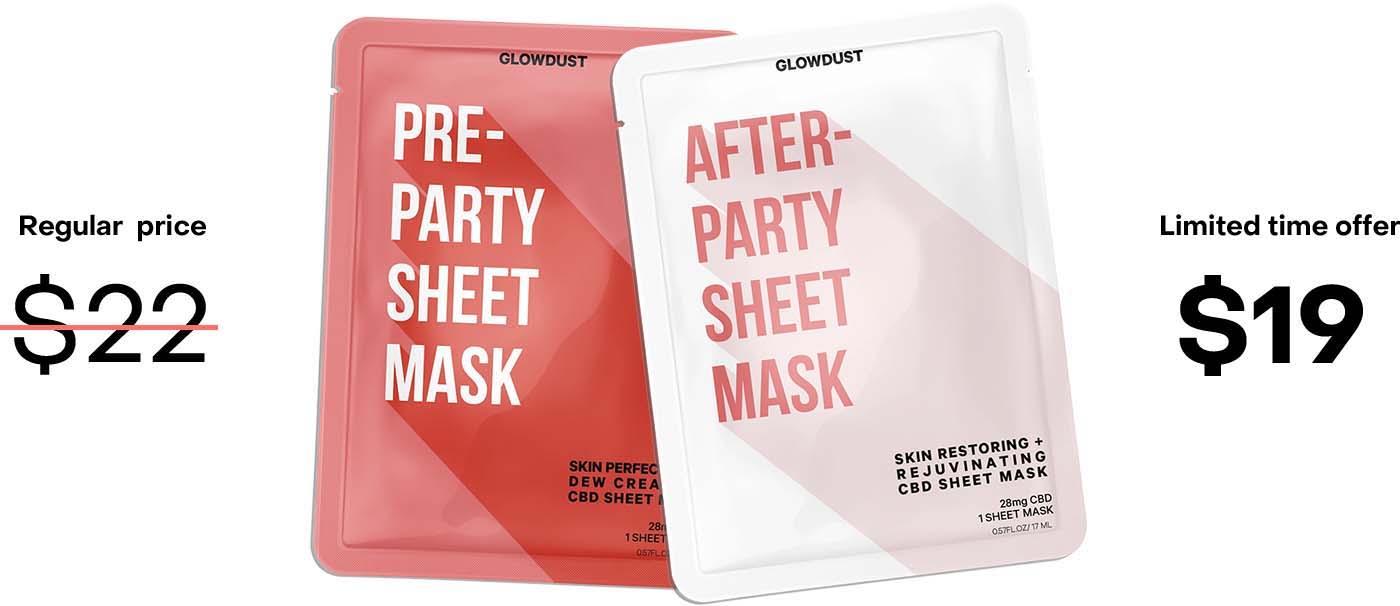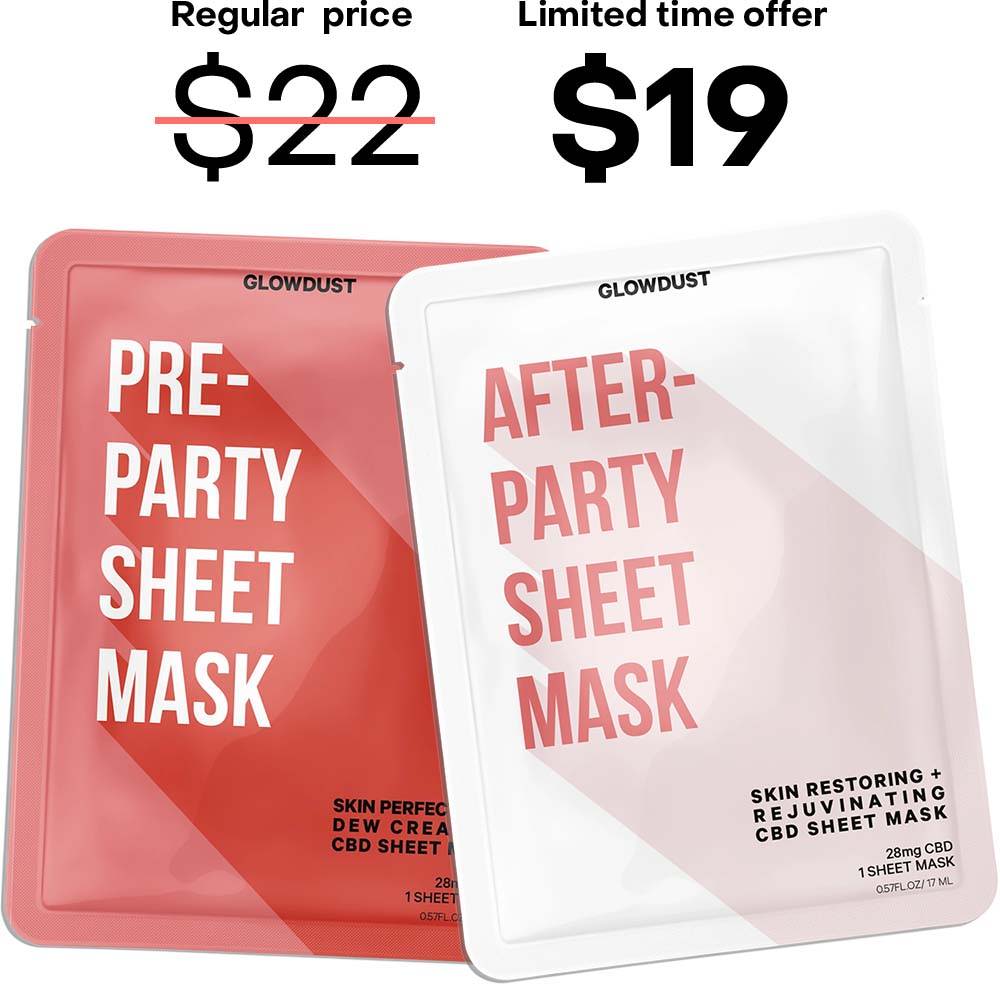 We run on a first come, first serve basis. Be sure to use your coupon before it expires!
Use discount code:
GDB15
Only

17

party packs in stock.
3 perks other sheet masks don't have

CBD is your new beauty BFF. Our customers can't stop raving about it's been a miracle for skin inflammation and redness reduction.
It's completely safe when applied to your skin. It's not a hippie trend, and it's not going to get you high. Each of our masks include 28mg of pure & natural CBD.

Other companies infuse their masks with chemicals like sulfates and parabens which are known to be damaging to skin health.
We made sure that our masks were made ONLY with natural, safe ingredients. We use natural ingredients like citrus extract, lavendar, and hops that are safer and more effective than risky chemicals.

Hydrates, cleans, & repairs
Most sheet masks just try to hydrate your skin. Glowdust's sheet masks are infused with ingredients that do much more.
Our masks are incredible for hydrating your skin, but they also actively work to tighten, remove puffiness, reduce redness, and remove harmful toxins that cause free radicals.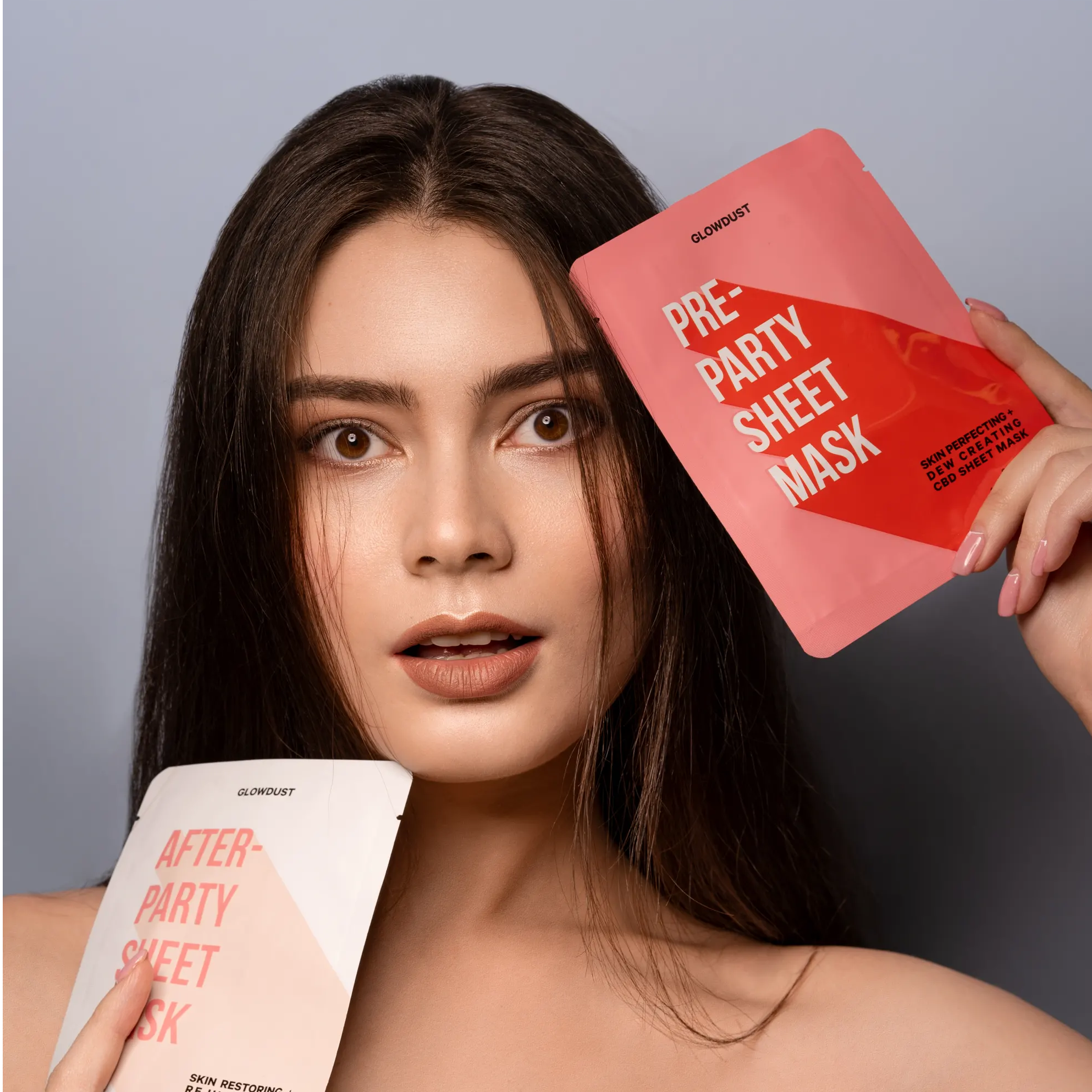 Our Pre-Party Sheet Mask is loaded with a nutrient-rich cocktail of ingredients to tighten and tone, while laying the perfect foundation for a smooth, poreless makeup application.

Our After-Party sheet mask is an anti-inflammatory superstar, overflowing with hydrating, pH-balancing ingredients